Haunted Mansion and Haunted Inns along a Haunted River
Snow Hill is just 30 minutes from Ocean City, Salisbury and Chincoteague.  It's one of the most historically in tact towns on the Eastern Shore with beautiful architecture and interesting haunts. Set on the mystical Pocomoke River and bordered by its haunted forest, Snow Hill has a special energy.
Enjoy a nighttime walk around one of the Eastern Shore's most haunted towns.  Snow Hill, Maryland in Worcester County is known for its haunted Snow Hill Inn on Market Street, that is said to be haunted by the ghost of William Aydelotte, a pharmacology student who committed suicide in 1904 by slitting his own throat …. twice.
The Snow Hill Inn isn't the only property with spirits.  Former owners of the  Governor's Mansion on Church Street reported that Governor John Walter Smith appeared to their children soon after they moved in.  The town hall has a ghost that occupies one of the 2nd-floor rooms.  Mapleton has been known to have the voices of children coming from the old gardens and the River House may have a child or two as well.
The houses on Federal and Church Streets are some of the most beautiful Victorians on the Eastern Shore.  Hear stories about several of those properties.  Also hear tales about tragedies and mysteries in the Pocomoke Forest.
PLEASE NOTE: WE DO NOT GO INSIDE THE PROPERTIES.  This is a ghost walk where stories of hauntings and unexplained events are shared while standing outside the property.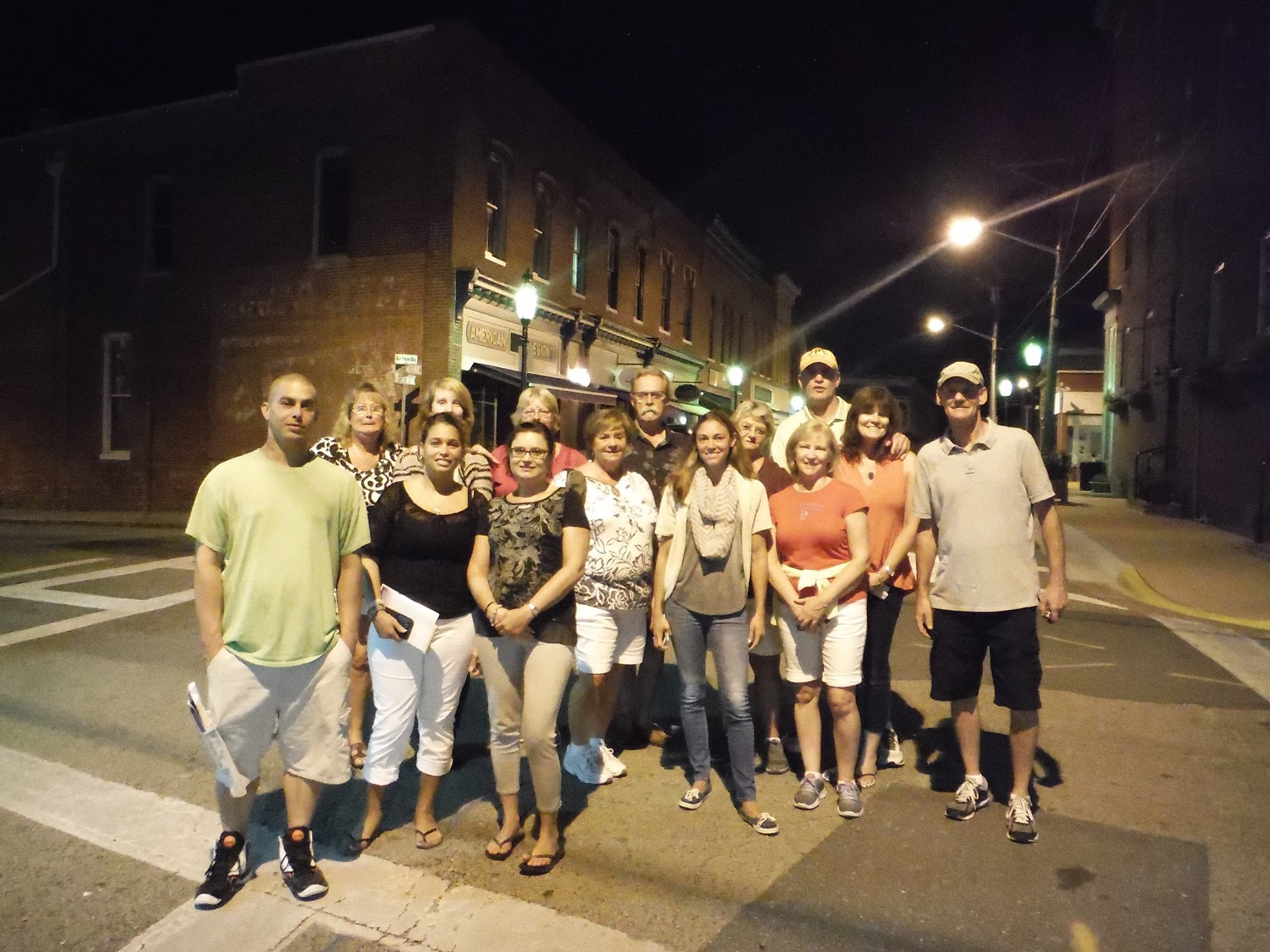 SITES ON THE SNOW HILL GHOST WALK include the sites mentioned above as well as the Julia A. Purnell Museum, the Collins Vincent House and Whatcoat Cemetery.
MEETING PLACE:  Meet at the Town Hall on Bank and Green Streets
BLOG POSTS ABOUT HAUNTED SNOW HILL:
The Snow Hill Inn – My First Ghost Story
Julia A. Purnell Museum – the Attic of Worcester County
Snow Hill Inn – 2nd Most Haunted Site on Delmarva
ROUTE MAP – Online Route of the Snow Hill Ghost Walk and some of the stops
TIME & WEATHER: Ghost Walk begins on time. We walk in all kinds of weather except heavy rain and thunder storms.  Dress for the weather and be aware that each ghost walk takes at least 1.5 hours and covers between 1.6 miles.
Bring your umbrella if it looks like rain
Wear comfortable shoes
Bring a flashlight.
Bring your camera.
CANCELLATIONS AND REFUNDS:  Full refund will be given if cancellation is made 48 hours prior to the tour's start.  If cancellation is NOT made within 48 hours of the tour, no refunds will be given. For reservations of 6 or more, we require 72 hours.  However, all registrations are transferable, so feel free to allow a friend or family member to attend in your place.  Just give them your order voucher.
SaveSave
SaveSave
SaveSave