Gifts for Holidays:
Gift Certificates, ornament & Gift Book Sets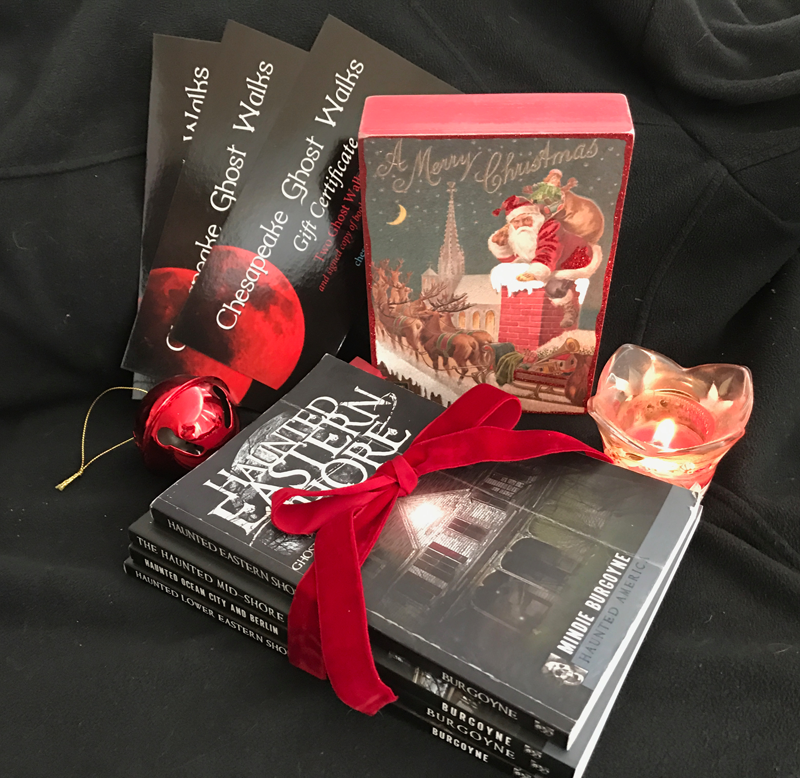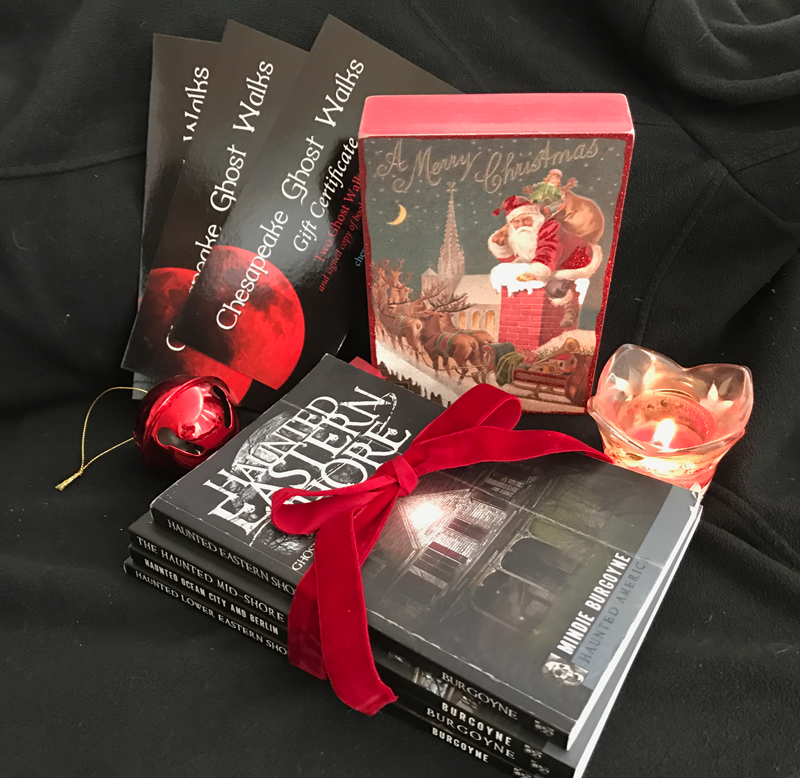 Give an unusual gift for the holidays or special occasions. Gift certificates for ghost walk tickets and/or signed copies Mindie Burgoyne's books make excellent gifts for those who love stories and the heritage of the Eastern Shore.  Read more 
Ghost Walk Tickets Gift Certificates
Get your gift INSTANTLY  when you purchase a Ghost Walk Ticket Gift Certificate from Chesapeake Ghost Walks. You may receive it the same day via instantly redeemable coupon code to insert in your card, or (when purchased with a book) have a hard copy inserted into a gift book(s) that is personally autographed by Mindie Burgoyne.
Two Ghost Walk Tickets – any town $50

Gift Certificate for Two Ghost Walk tickets to your choice of ten towns.  Your intended receiver can redeem this for any two people to attend a ghost walk in any of the towns listed on the website.  Certificate must be redeemed by calling the Ghost Phone (443.735.0771) and placing the order through one of our staff members or inserting the coupon code directly into the online order.
10 Ghost Walk Tickets- $250 value for $199 –

limited time offer – holidays only!

Gift Certificate for a series of 10 ghost walk tickets.  Present this certificate to a friend or relative and he or she can redeem it for any ten ghost walks over a period of one year from the date of purchase. This allows a person to attend every one of our Chesapeake Ghost Walks including Easton, Cambridge, St. Michaels, Denton, Princess Anne, Crisfield, Pocomoke, Snow Hill, Berlin & Ocean City – or the receiver can use the tickets to take friends.
Two Tickets for a Ghost & Graveyard Bus Tour – $79

Two gift certificates for any scheduled Ghost and Graveyard Bus Tour (provided there is availability when booking). Enjoy a bus tour that goes into the more "hidden" and rural haunted areas. Read more about the bus tours on the Ghost and Graveyard Bus Tour page.
Tour dates for the coming year announced in the second week of December.
Gift Certificate – Book Combinations
4 choices
Get a Gift Certificate for two ghost walk tickets (any town) plus a signed copy of one of Mindie Burgoyne's four books on the Haunted Eastern Shore. Mindie will sign and personalize them if you want. We will also drop ship to your intended receiver if that is more convenient. Simply note where you want it shipped during the ordering process.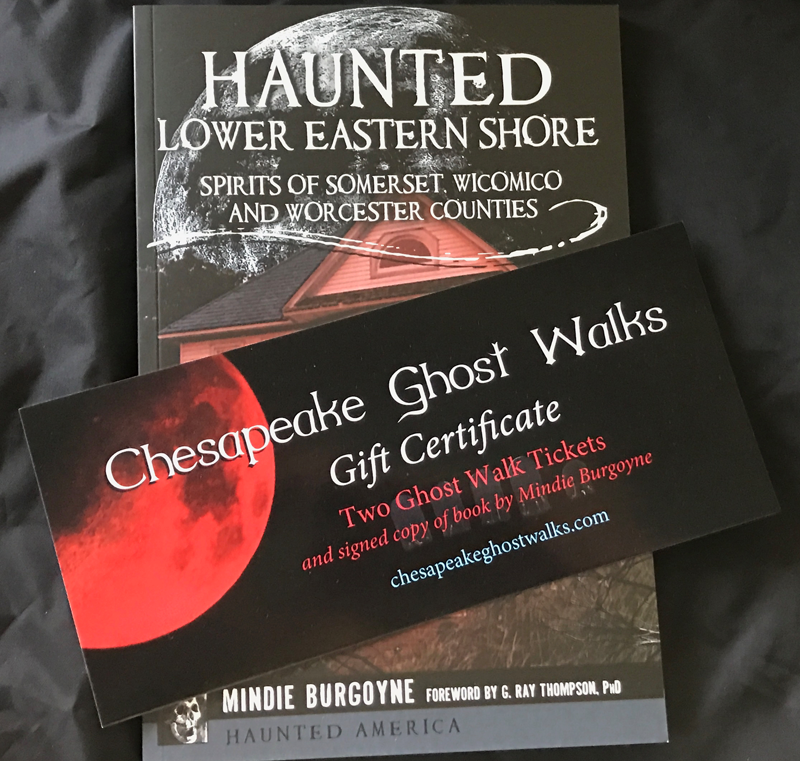 Consider a Ghost Tour / Book Combination. Purchase one gift certificate for two tickets to a ghost walk for any one of the eleven towns we feature, plus a copy of one of the four books in the Haunted Series. Price for the combo is $65, which is a 10% discount.
Two Ghost Walk Tickets and signed copy of Haunted Lower Eastern Shore – $65 – shown above
Two Ghost Walk Tickets and signed copy of Haunted Mid-Shore – $65
Two Ghost Walk Tickets and signed copy of Haunted Ocean City and Berlin – $65
Two Ghost Walk Tickets and signed copy of Haunted Eastern Shore – $65
Gift Book Sets – great holiday gifts for lovers of ghost stories and Eastern Shore Heritage
Mindie Burgoyne has written four books on haunted sites and places on the areas east of the Chesapeake Bay. These books collectively contain over 100 stories and will entertain and inform those who love ghost stories and the history of the Eastern Shore. The books are suitable for readers from Middle-school age to seniors. Each books contains approximately 25 stories from a particular region on the Eastern Shore.
Books can also be combined with Gift Certificates for ghost tours.  The books can also be purchased individually or in a gift set as shown below.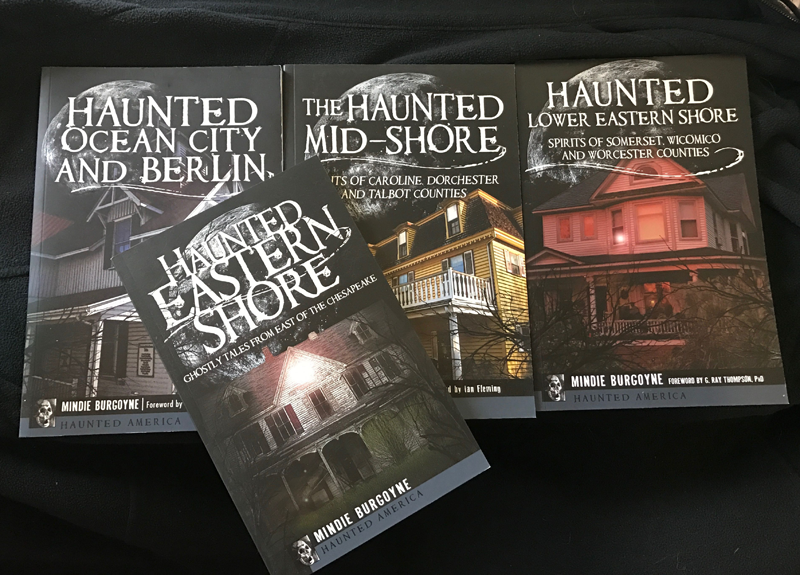 The Complete Eastern Shore Haunted series (shown above). 4 books with stories covering 10 counties 
signed by Mindie Burgoyne

 $69.98 = 10% savings – 

GIFT WRAPPED!

The "Complete Eastern Shore Series" – 4 books

All books will be signed by author, Mindie Burgoyne, owner of Chesapeake Ghost Tours and the person who crafted all of the tours. AND – we will gift wrap the set.

Over 100 haunted tales about places in ten Eastern Shore Counties in Maryland and Delaware.    Read more ….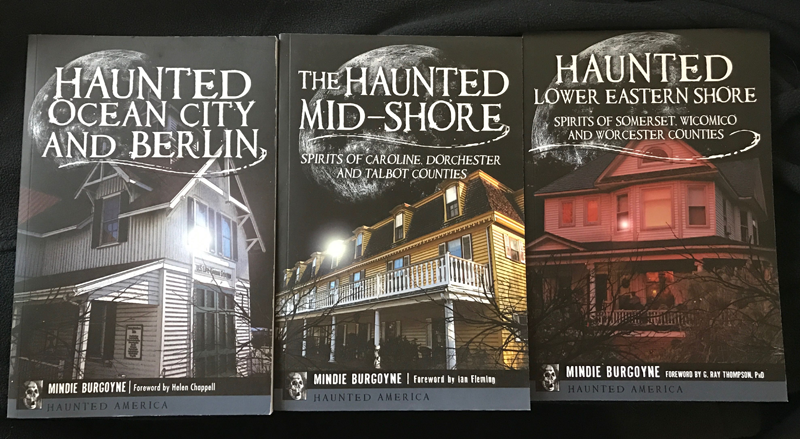 Get the three books authored by Mindie Burgoyne that focus on the Mid and Lower Shore regions. This is a total of 75 stories covering the Chesapeake Trail of eleven ghost walks in six counties of Maryland's Eastern Shore (plus a few Delaware stories – Woodland, Maggie's Bridge, Cannon Hall, the Witches Tree). This set includes the story of the author's own haunted house and her account of what led her to study and write about ghosts on the Eastern Shore.  Signed by author, personalized if you wish and drop shipped directly to your intended receiver.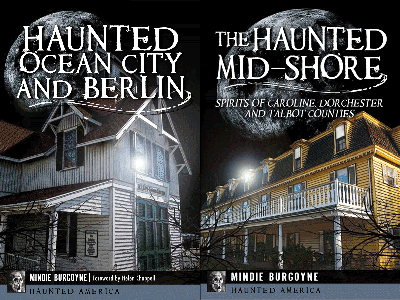 Choose any two books from Mindie Burgoyne's Haunted Series. Each book is focused on a region of the Eastern Shore delving deeply into that regional landscape. Each book contains about 20-25 stories. Mindie Burgoyne will sign and personalize the books. We drop ship! So have us send them directly to your intended with a gift note. Read more about the individual titles on our BOOKS PAGE
Individual Books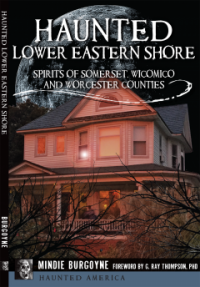 These books are all available for purchase individually on this website.