Our ghost walks are spread across the Delmarva peninsula on Maryland's Eastern Shore. Some tours are as close as 30 minutes from the Chesapeake Bay Bridge and within 2-3 hours of Washington, DC, Philadelphia PA, Baltimore MD and Wilmington DE.  The map shows the locations.
TOWNS – north to south are: Denton, St. Michaels, Easton, Cambridge, Salisbury, Ocean City, Berlin, Princess Anne,  Snow Hill, Pocomoke and Crisfield.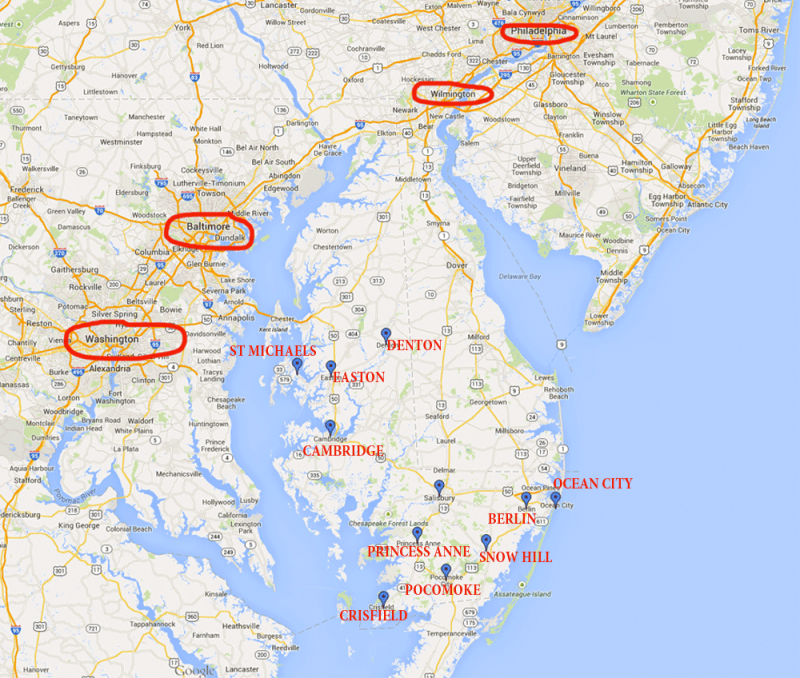 Scariest Walk –Pocomoke (goes into  a forest with a 200-year haunted legacy)
Most Disturbing Walk –Princess Anne (harsh content, no children under 13 permitted)
Most Haunted Street –Cambridge (High Street – Most haunted street in Maryland )
Strangest Energy –Berlin – Walking Dead, elemental, healing tree, ley lines
Haunted Trifecta – Ocean City – two sights with a murder, suicide and accidental death.
Rowdy Women –St. Michaels – Spirits of rowdy women –  Ladies of the evening, fussy landlady, vanishing hippie and a woman who throws wine glasses.
Haunted Capital –Easton – haunted capital – Easton was the eastern capital of MD. It has a haunted courthouse, jail and secret passage known as Magazine alley, plus 2 healing trees.
Haunted Mansions & Inns –Snow Hill 's Market & Federal Street are lined with Victorian mansion and inns where the spirits of owners past still linger. This tour has the only site on the Eastern Shore to be featured on Cable television (National Geographic Television Network)
Most Haunted Jail –Denton is the county seat of Caroline County and its courthouse green was the site of 2 lynchings and has six allegedly haunted sites on facing streets. Plus the most actively haunted jail on the Shore.