Pocomoke – Our Scariest Tour
Into the Haunted Forest – The Pocomoke Ghost Walk is the only on of the Chesapeake Ghost Walks that includes a walk into the Pocomoke Forest – one of the most haunted places in all of the Eastern Shore. No other single forest in the Mid Atlantic Region has as many ghost tales associated with it, except perhaps the Great Dismal Swamp.
The ghost walk begins with the Pocomoke River walk where the guide will describe how a Baltimore Sun reporter once stated that "the river takes one life a year. If it misses a year, it'll take two the next." Because of the River's black color, there is no ambient light just 4-6 feet below the surface. It's the deepest river for its width in the USA and the second deepest in the world.
Then the guide brings guests through Pocomoke City and describes spirits that haunt the River Gem Inn, the old Armory, the Mar-Va Theater, Cosden House and other sites in town.
Bu the spookiest part of the walk is when guests follow the guide into the forest and hear about spirits and aliens that have been known to haunt the forest. The cypress trees make for a spooky background – all of them seem to have faces.
THIS WALK CAN BE VERY SCARY FOR CHILDREN. Parents, please use discretion.
PLEASE NOTE: WE DO NOT GO INSIDE THE PROPERTIES. This is a ghost walk where stories of hauntings and unexplained ev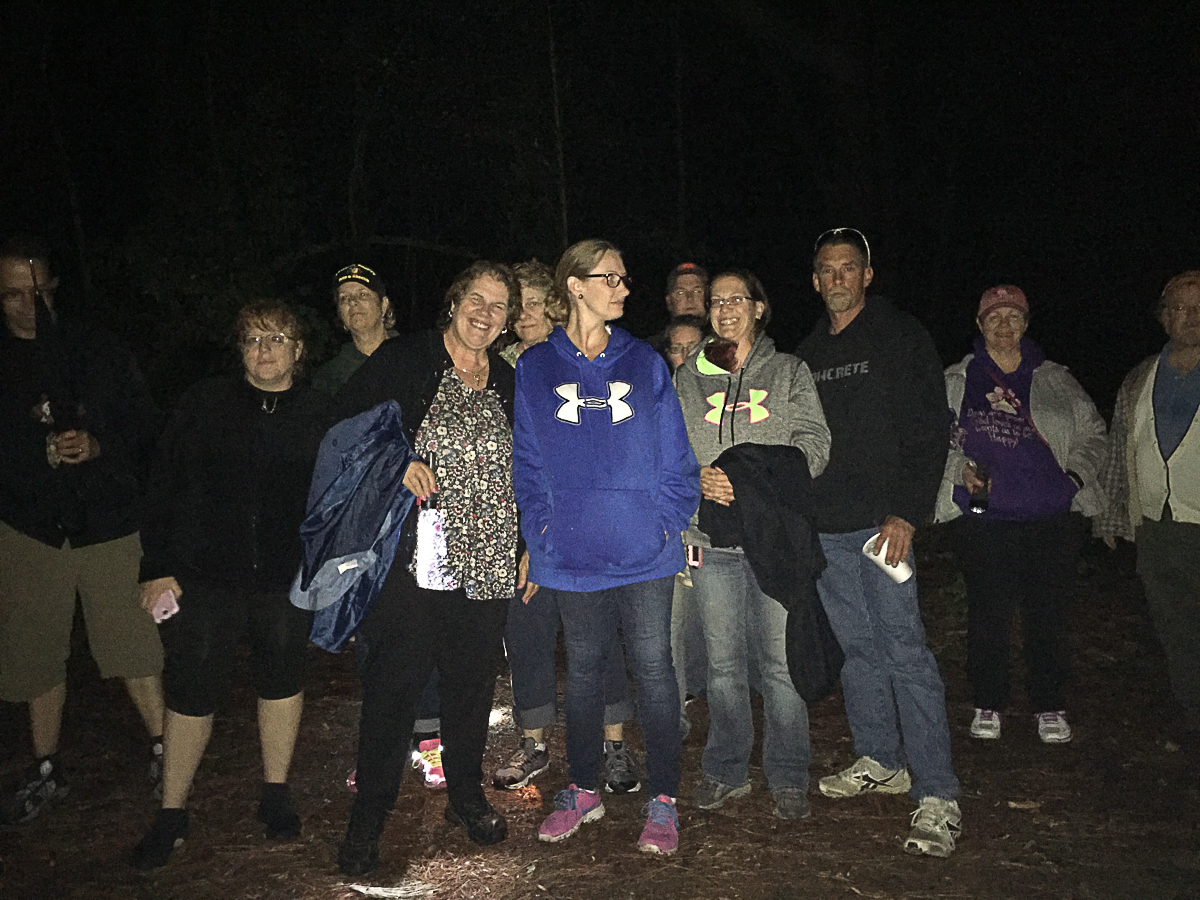 ents are shared while standing outside the property.
MEETING PLACE: Meet 15 minutes before the start of the tour UNDER THE PAVILION in the municipal parking lot at Front and Market Streets. This lot is across the street from the Discovery Center. Look for the Pavilion. Your guide will be waiting there.
LOCATION MAP
TIME & WEATHER: We walk in all kinds of weather except weather that threatens public safety. Please list CELL PHONE # when registering so in the unlikely event we need to cancel we can notify you. Dress for the weather and be aware that the ghost walk takes at least 1 to 1.5 hours and covers about 1 mile.
**For this walk – insect repellent is strongly suggested.
Bring your umbrella if it looks like rain
Wear comfortable shoes
Bring a flashlight.
Bring a camera
CANCELLATIONS AND REFUNDS: Full refund will be given if cancellation is made 48 hours prior to the tour's start. If cancellation is NOT made within 48 hours of the tour, no refunds will be given. For reservations of 6 or more, we require 72 hours. However, all registrations are transferable, so feel free to allow a friend or family member to attend in your place. Just give them your order voucher.
SaveSave
SaveSave