Spirits of Rowdy Women
Walk the ghostly path of rowdy women on the St. Michaels Ghost Walk. This awesome historic town with great shopping and restaurants is also home to very rowdy women spirits who may just toss a wine glass in your direction – or order you off the lawn.
Learn about the irate landlady who torments her tenants and the mischievous restaurant ghost who throws wine glasses and haunts the bathroom. Hear about the hippie in the park and the lady who haunts the Old Brick Inn.
And watch for a few ladies of the evening who have never left their brothel … even after it became a public tourist spot.
Beautiful St. Michaels, sitting so peacefully on the Miles River has some lonely and rowdy women spirits who get about town at night. Join this ghost walk to hear their stories.
The walk begins in front of the Chesapeake Bay Maritime Museum and makes its way through around the St. Michaels harbor and around St. Michaels historic downtown.  Visit an old cemetery and hear stories about St. Mary's Square where ghosts of unremembered dead once haunted a school that was on the Square.  Visit the Victoriana Inn where a spirit of a former guest is still trying to pay his bill. Learn about the ghost in St. Michaels Town Hall, the house of a steamboat captain and a site that was once a brothel is said to still be "active."  The walk is about 1.5 miles and lasts about an hour and a half.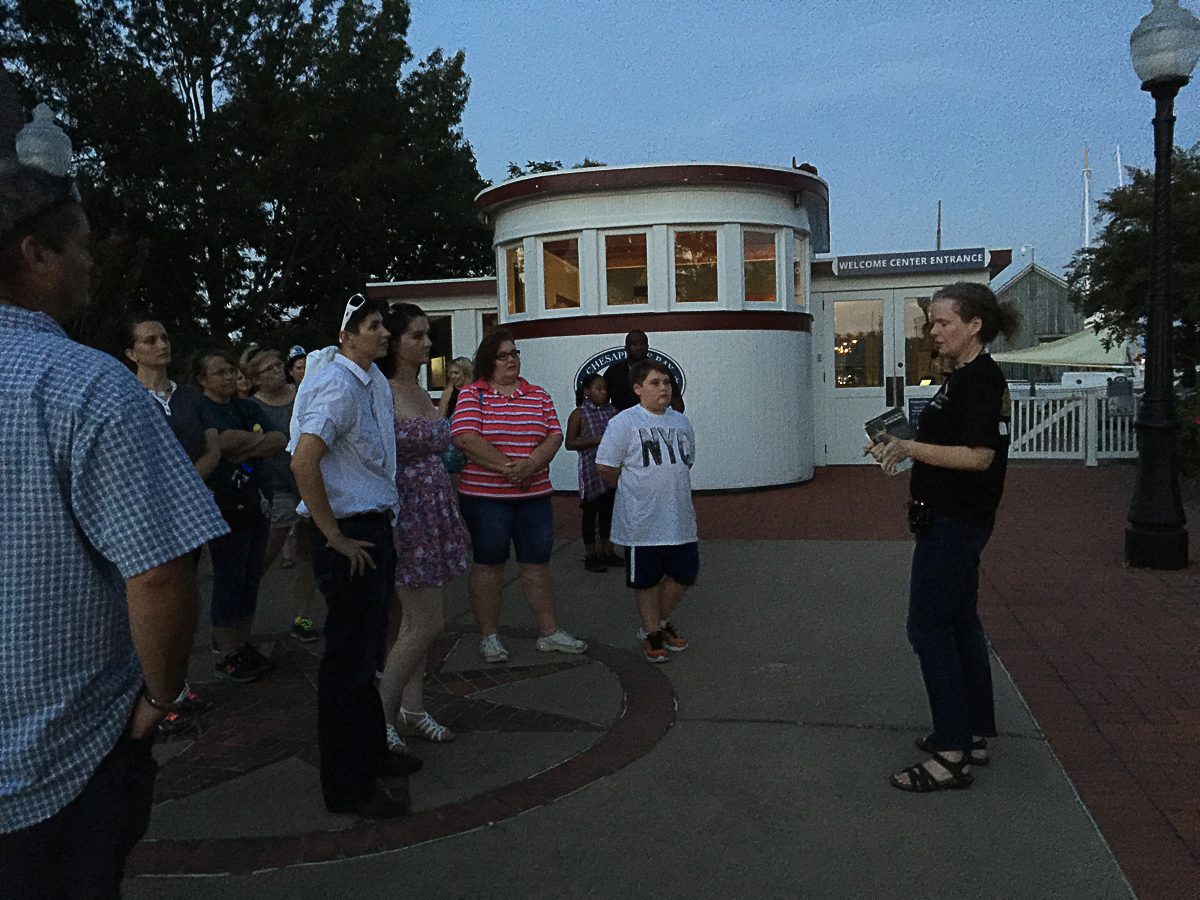 PLEASE NOTE: WE DO NOT GO INSIDE THE PROPERTIES.  This is a ghost walk where stories of hauntings and unexplained events are shared while standing outside the property.
St. Michaels  is approximately 45 minutes east of the Chesapeake Bay Bridge, and is a worthy tourist destination at any time of the year.  But seeing it at night and hearing about it's haunted history is a special experiences.
MEETING PLACE: Meet 15 minutes before the start of the tour in front of the Chesapeake Bay Maritime Museum entrance.
TIME & WEATHER: Ghost Walk begins on time. We walk in all kinds of weather except heavy rain and thunder storms.  Dress for the weather and be aware that each ghost walk takes at least an hour and covers between 1 and 1.5 miles.
Bring your umbrella if it looks like rain
Wear comfortable shoes
Bring a flashlight.
Bring a camera.  That's part of the fun.
CANCELLATIONS AND REFUNDS:  Full refund will be given if cancellation is made 48 hours prior to the tour's start.  If cancellation is NOT made within 48 hours of the tour, no refunds will be given. For reservations of 6 or more, we require 72 hours.  However, all registrations are transferable, so feel free to allow a friend or family member to attend in your place.  Just give them your order voucher.
SaveSave
SaveSave