Berlin, Maryland … strange energy, Ley Lines, Elementals and the Walking Dead
Take a spooky nighttime walk through America's coolest town – just 15 minutes from Ocean City. Hear about the child who haunts the historic Atlantic Hotel, a spirit who hides in an antique store basement, the Lady in White standing by the bank and apparitions of people long dead are seen walking the street.
Touch the healing tree and walk in the steps of "the Elemental" that haunts a spot near the old rail line. And take a nighttime stroll through a very old, dark graveyard, and hear about a "ley line" that runs through the town.
Our Berlin tour has the "strangest energy" our of all our eleven Eastern Shore ghost walks.
PLEASE NOTE: WE DO NOT GO INSIDE THE PROPERTIES.  This is a ghost walk where stories of hauntings and unexplained events are shared while standing outside the property.
The Haunted Berlin Ghost Walk
This 1.5 mile Ghost Walk of historic Berlin, Maryland will include enchanting places like the Atlantic Hotel where a little girl is still interacting with people in one of the guest rooms.  The Atlantic hotel has five ghost stories associated with it and still continues to have ghostly activity.
There have been night-time sighting of three characters around Berlin's main street.  Ned France's is believed to be one of them.  He had "Bargain Fair" similar to a flea market set up in one of the store fronts.  A man looking a lot like Ned is sometimes seen shuffling up and down the street near the sight of his old store.
People in the second-floor apartments over the stores have seen a lady in a long white dress standing by the Calvin B. Taylor Bank. And an old soldier – still in uniform has been seen walking near Pitt Street.
Berlin has many haunted sites including the Old Dairy Queen,  the Store of Crazy Characters, the former Odd Fellows Hall, the Maryland Wine Bar, the Pitts House and St. Paul's Graveyard.
Besides the spirits, Berlin also features a "healing tree" and a site known to be occupied by elementals.
THE TOWN OF BERLIN is approximately 2 hours east of the Chesapeake Bay Bridge and 10-15 minutes from Ocean City, MD.
MEETING PLACE:  Meet 15 minutes before the start of the tour in front of the Berlin Town Hall under the "Welcome to Berlin" sign.  10 William Street, Berlin, MD
BLOG POSTS ABOUT BERLIN:
The Child Spirit at the Atlantic Hotel
The Odd Fellows (IOOF): Skeletons in Their Closets
Atlantic Hotel in Berlin, MD – Haunted? Yes.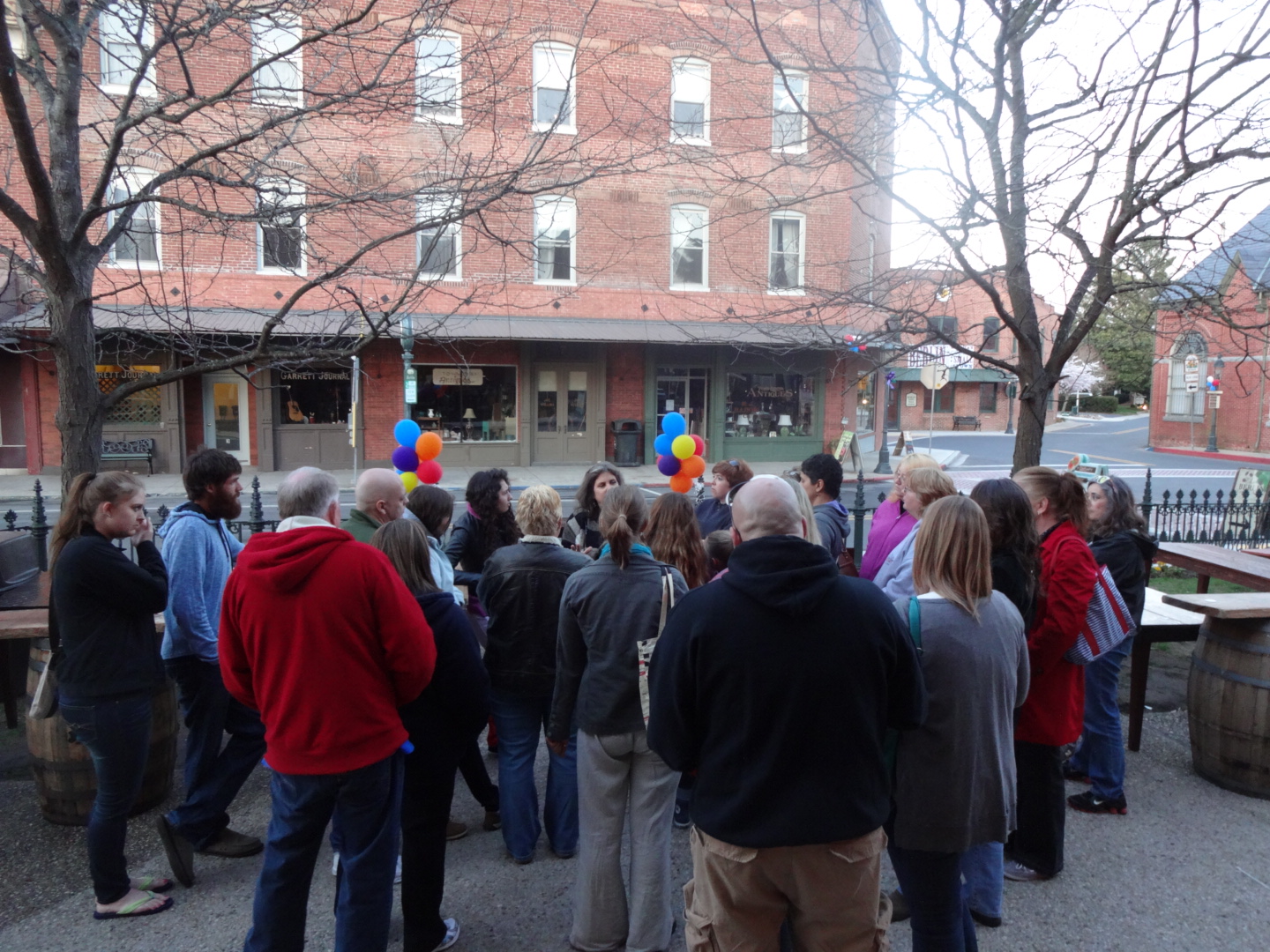 TIME & WEATHER: Ghost Walk begins on time. Please meet fifteen minutes prior to the start.  We walk in all kinds of weather except heavy rain and thunder storms.  Dress for the weather and be aware that each ghost walk takes at least an hour and covers between 1 and 1.5 miles.
Bring your umbrella if it looks like rain
Wear comfortable shoes
Bring a flashlight.
Bring a camera
CANCELLATIONS AND REFUNDS:  Full refund will be given if cancellation is made 48 hours prior to the tour's start.  If cancellation is NOT made within 48 hours of the tour, no refunds will be given. For reservations of 6 or more, we require 72 hours.  However, all registrations are transferable, so feel free to allow a friend or family member to attend in your place.  Just give them your order voucher.
SaveSave
SaveSave