BOOK LAUNCH – The Haunted Lower Eastern Shore, Princess Anne
GET YOUR FREE TICKETS TO THE LAUNCH OF THE 4TH BOOK IN MINDIE BURGOYNE'S HAUNTED SERIES –  This event is FREE and open to the public held at the Washington Inn & Tavern in Princess Anne. You can buy books, meet Mindie and have her sign your book, and enjoy some fun conversation about ghosts, hauntings and the historic Eastern Shore. There will be drawings for prizes and two Grand Prize drawings for weekend getaway packages for two at a haunted inn on the Lower Shore. Your free ticket is your drawing entry. (see below)
BE THE FIRST TO GET THE BOOK IN HAND
100 copies of the book will be available for sale at this event. Cost is $21.00 (includes MD sales tax), and Mindie Burgoyne will be present and available to meet you and sign the books.  Book numbers are limited – first come, first serve.  Feel free to bring your personal copies of Mindie's other books for signing.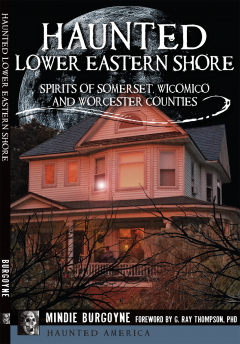 The Haunted Lower Eastern Shore features 28 stories about haunted sites in the three lower counties of Maryland's Eastern Shore including the Pocomoke Forest, Salisbury Firehouse Headquarters, Teackle Mansion, The Mar-Va Theater, Poplar Hill Mansion, the Witch's Tree, Cry Baby Bridge and the Vance Miles House. The content follows the ghost walk stories on the Pocomoke, Snow Hill, Princess Anne, Crisfield, and (soon to be announced) Salisbury Ghost Walks. This is Burgoyne's forth book in The History Press's "Haunted" series.  A Limited number of Burgoyne's other books will also be for sale at the event.
BRUNCH – WATCH THE RAVENS – OVERNIGHT STAY
Now under new ownership /management and completely renovated, this historic building on Somerset Avenue in Princess Anne offers an awesome dining experience. On the day of the launch (Sunday, Oct 16th) they'll be serving a delicious brunch from 8am to 4pm. The full-service bar will open until 10pm and YES —- the bar will have the Ravens Game on, so you needn't worry about missing it.  You may even want to book an overnight stay that evening in one of the tavern's charming rooms….. but please note …. some people say that the Washington Inn and Tavern has a few ghosts of its own. 
FREE DRAWINGS – BOOKS, TOUR, Grand Prize

Attendees can enter free drawings for books, T-shirts and ghost tour tickets that will be held between 3 and 4:30 pm. There is no obligation to purchase anything. Simply show up at the launch and drop your ticket in the drawing.
2 BIG PRIZE DRAWINGS
Haunted Inn Weekend Package  – two nights for two people at The Washington Inn & Tavern OR The River Gem Bed and Breakfast (both said to be haunted) including breakfast, plus a signed copy of The Haunted Lower Eastern Shore and two free ghost tour tickets. Each package is valued at over $300. 
Two winners will be drawn at 5pm and both packages will be awarded. Weekend stays are subject to availability. No purchase is necessary to enter. Winners need only be present at the launch and the drawing in order to collect the prize. Drawings for grand prizes will be held at 5pm.
Princess Anne GHOST WALK FOLLOWS under October's FULL Moon  5:30pm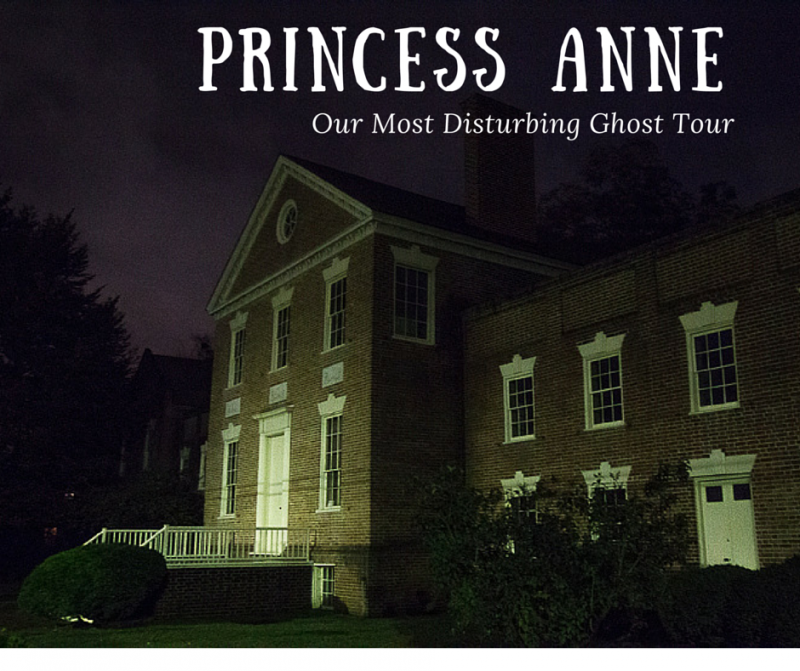 MAKE A NIGHT OF IT  – After the book launch ends, at 5:30 pm, Mindie and other storytellers from Chesapeake Ghost Tours will lead a Princess Anne Ghost tour starting at the Washington Inn and Tavern. You will hear some of the most disturbing haunted stories of murders, suicide, the torment of children along with comforting stories of a lady of the mansion, old firefighters and some guests who never left the Washington Inn. Also walk through a peaceful graveyard with a healing tree. The walk is approximately one mile long and takes one hour and 45 minutes. Read more and  Reserve tickets now for the ghost walk now.
BOOK LAUNCH TICKETS
To get your free tickets to the Haunted Lower Eastern Shore Book Launch, scroll down and note the number you want to order then take the steps to complete the order.  Limit 5 per person. There is no charge.
Print the ticket out and bring it with you to use as your drawing. ticket.