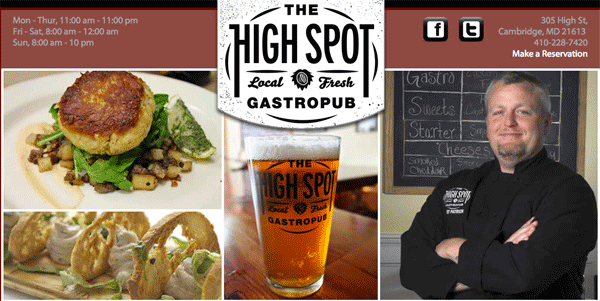 Cambridge Ghost Walk 11/29 – Small Business Saturday
In celebration of Small Business Saturday, we're partnering with The High Spot Gastropub in Cambridge with a special offer for the Cambridge Ghost Walk on Saturday 11/29. 
If Black Friday is when shoppers go mad for deals at the big box stores, Small Business Saturday (the following day) shoppers can enjoy shopping in small historic towns and take advantage of deals and promotions from the local merchants on Main Street. It's a way to shop stress free and keep the dollars in local communities. 
This Small Business Saturday 11/29 Chesapeake Ghost Walks hosts the Cambridge Ghost Walk just after the Christmas Lighting Ceremony. – also on High Street.
Free Coffee to Start the Tour
The Ghost Walk, which runs down historic High Street with 14 haunted stops will meet at The High Spot Gastropub at 305 High Street (next to the Post Office).  Guests will enjoy a free cup of hot coffee that they can carry with them as the tour begins.
$5 off Dinner at The High Spot
Every guest on the Cambridge Ghost Walk will be entitled to $5 off a dinner at the High Spot. Simply present your ticket to your server and the $5 will be deducted from the bill (dinner entrees only).
Shop local – Keep the holiday dollars in your community
Keep in mind that when you do your holiday shopping in small, privately owned Maryland businesses, you keep those dollars in the local communities and help boost the rural economy. The High Spot is a small, locally owned business as is Chesapeake Ghost Walks.
So join us for the evening  – coffee, Christmas Tree Lighting,  dinner and a ghost walk down the most haunted (and beautiful) street on the Eastern Shore.
And get some shopping done during the day in downtown Cambridge.