Use the calendar below to select your tour date and book online!
Book Launch – Haunted Mid-Shore – 8/29 Oxford
08/29/2015 @ 5:00 pm

-

7:00 pm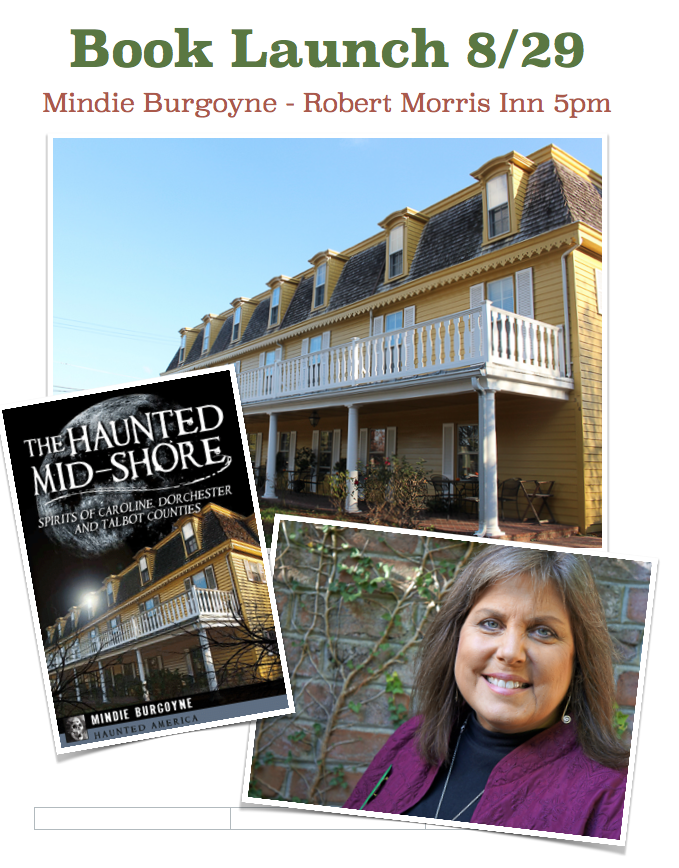 Book Launch – The Haunted Mid-Shore: Spirits of Caroline, Dorchester & Talbot Counties
2nd book in the Haunted Shore series by Mindie Burgoyne – Robert Morris Inn, Sat. 8/29 from 5-7pm
Eastern Shore author, Mindie Burgoyne will be present to sign and sell copies of her latest book – The Haunted Mid-Shore: Spirits of Caroline, Dorchester and Talbot Counties. The book in the second in what will be a 3-book series of covering 75 haunted in six Eastern Shore counties. These sites in the books are also part of Burgoyne's 10-town Chesapeake Ghost Walk trail. The Haunted Mid-Shore was published by The History Press as part of their  "Haunted America" series. Books sold at this launch (handled by Mystery Loves Company book store in Oxford) will be among the first copies of this edition sold to the public.
Everyone is welcome at the launch and there is no cost to attend. The launch is hosted by the (very haunted) Robert Morris Inn in Oxford, a historic Inn and restaurant that is also featured on the cover of the book. Co-owner of the Inn, Ian Fleming also provided the Foreward for the book.
SPECIAL DRAWING for attendees – $410 value
Guests in attendance will have the opportunity to sign up for a special drawing where one winner will receive two free signed copies of the 2-book haunted set plus a private group ghost tour of any one of ten towns featured on the Chesapeake Ghost Walks.  The winner can choose a convenient date and include up to 25 of his or her friends on the tour which will be personally guided by Mindie Burgoyne, herself who wrote and crafted all ten of the Chesapeake Ghost Walks – Easton, Cambridge, Denton, St. Michaels, Princess Anne, Crisfield, Pocomoke City, Snow Hill, Berlin and Ocean City.
Drawing will be conducted at 6:30 pm at the end of the book launch. No purchase is necessary to win and the winner does not need to be present at the time of the drawing but must attend the event in order to get into the drawing.
St. Michaels Ghost Walk follows book launch under the full moon.
After the book launch, head on out to St. Michaels and enjoy a guided ghost walk tour under the FULL MOON. Hear about the Ghosts of Navy Point, Hells Corner, the Town Dock Restaurant, the spirit of a guest who is still trying to pay his bill at a historic inn and the ghost of Robert E. Lee at the Kemp House.  Register here.
Schedule of Events
5:00 – 6:30 pm  BOOK LAUNCH – Robert Morris Inn
314 North Morris Street, Oxford, MD 21654  PHONE:  410 226 5111   Purchase copies of The Haunted Mid-Shore  for 19.99 + tax = 21.19. Sales being handled by Mystery Loves Company. Cash, check and credit cards accepted.
6:30 pm – DRAWING –Robert Morris Inn
Drawing among attendees for a free copy of the new book plus a private ghost walk for up to 25 people guided by Mindie Burgoyne $410 value.
8:00 pm – GHOST WALK – St. Michaels under the Full Moon
Head out for a ghost walk under the full moon in St. Michaels – a town just across the Tred Avon River. Enjoy a gorgeous evening walk in this harborside town and hear about the ghosts of Navy Point, St. Marys Square, Muskrat Park, Hells Corner and more. This guided tour will last 1.5 to 2 hours. Adults $15 Kids (8-12) $9.  Limit is 25 people.  Tickets must be purchased online in advance due to sell-out conditions.   This walk WILL sell out so order early. GET TICKETS HERE
The Haunted Mid-Shore is Mindie Burgoyne's fifth published book. It is also the second book in a 3-book series that will includes Haunted Ocean City & Berlin and will include The Haunted Lower Shore (to be released in 2016).  The 3-book series along with her best-selling book Haunted Eastern Shore will cumulatively cover eighty-six haunted sites on Maryland's Eastern Shore.